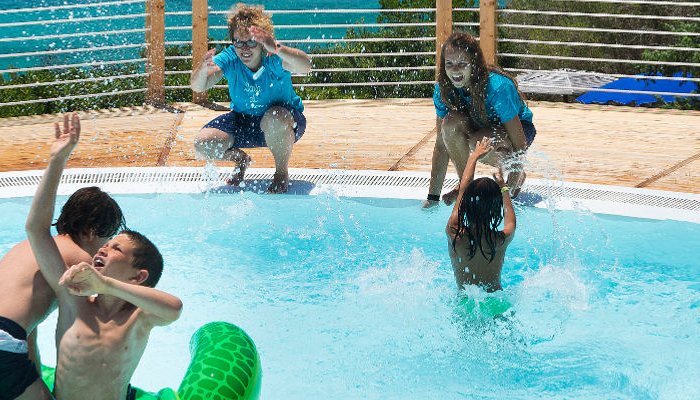 Holiday offers in June in Sardinia at the Park Hotel & SPA Cala di Lepre. It's worth it!
June is the perfect time to spend your holiday in one of the best hotels in the North of Sardinia, ideal for young couples and families with children
The winter is starting to feel heavy, right? You need to get rid of the stress and enjoy a relaxing holiday by the sea, maybe in one of the best hotels in the North of Sardinia? Well, it's not a dream, by any means… The Park Hotel Cala di Lepre has unbeatable offers for June in the most beautiful part of Sardinia, in an exceptional location with a range of facilities to satisfy absolutely everyone!
You're still not sure? Well, let start with the facilities, one of the reasons why the Park Hotel Cala di Lepre has more than once been awarded the title of one of the best hotels in Sardinia.
A couple of examples: if you are a couple and you have decided to allow yourselves a relaxing but energetic holiday at the same time, you could combine romantic moments at the "d'Ea Marina" Wellness Centre with a range of sports all found at the hotel. In fact, you could take advantage of the free beach volleyball court and the two floodlit tennis courts. And if your partner really can't give up his game of five-a-side football, not even on holiday, well, you could "abandon him" on our pitch and while he's having fun, why not have a go at archery? That's free as well!
If instead you're a family with children and you're looking for hotels in the North of Sardinia that look after every one of you, well, you're in the right place!
If all that you want is for your little ones to have fun while you enjoy a well-deserved rest, here we are, we'll take care of everything! First of all, stop worrying about all that heavy luggage you'll have to take with you in Sardinia! Everything that your little one needs is available free at the Hotel's fully equipped bottle feeding nursery. It's open 24 hours a day and has sterilizers, bottle warmers, changing tables, microwave ovens and pans, as well as milk, biscuits, yoghurt, fruit juices, products for preparing baby foods etc… in addition you can hire a push chair for the whole stay as well as a free cot.
Maybe your "little one" isn't so little anymore? Perfect! The free Mini and Junior Club are ready and waiting with lots and lots of games, educational-playtime activities and sports activities, always under the attentive supervision of the professional staff at the Park Hotel Cala di Lepre. And the "free" part isn't finished!! If you book your holiday in June at the Park Hotel Cala di Lepre, you don't have to pay for children from 0 up to 2; you don't have to pay for the first child from 2 to 5 and the 2nd, 3rd and 4th child over 2 have a 50% discount!
But now let's think about dear Mum and Dad… While your children are having fun and making friends at "Leprottoland", would you prefer to sip a delicious fresh drink by the pool or be pampered among the multifunction swimming pools of the Wellness Centre? Here at the "D'Ea Marina SPA" you can choose from numerous à la carte treatments or wellness packages to be enjoyed in the prestigious chalets within the SPA.
Make the most of the June offers and you'll be able to enjoy your holiday starting from €92 per night, a price that will be further discounted by 10% if you book by the 31st of March!
But then, have you ever had the chance to enjoy the North of Sardinia during the period when Spring still serves up colours and dizzying scents in every corner? It's starting to get pleasantly warm, without "suffering"; Sardinia in June is still not yet crowded and so you can imagine you are the "masters" of whichever beach you choose, enjoying a different paradise every day… The list goes on, we could continue for pages and pages but we'd much prefer that it's you who tell your friends what you've found in the North of Sardinia after a holiday at the Park Hotel Cala di Lepre.
We're waiting for you